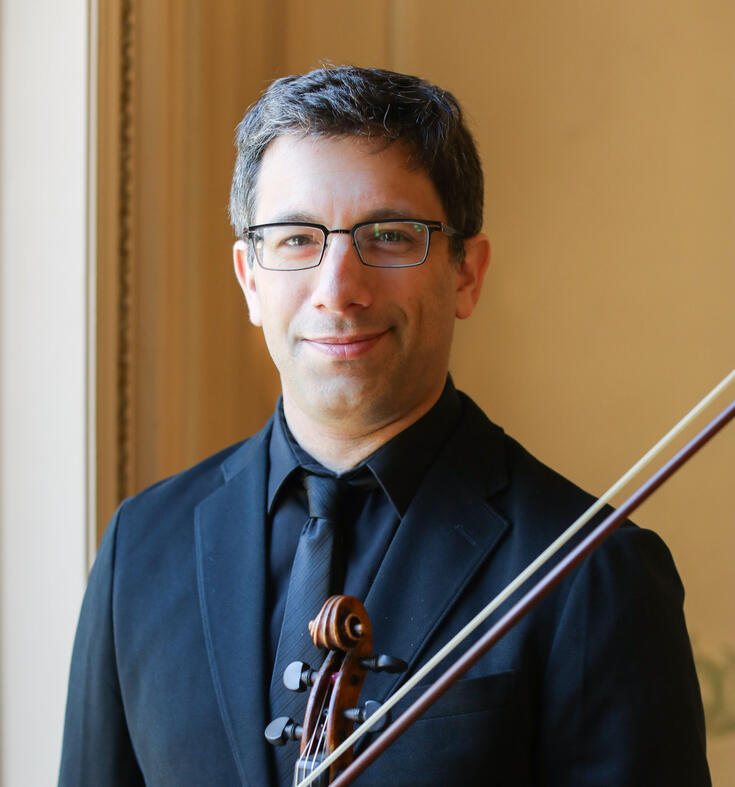 Marc Levine
---
Violin
Biography
Marc Levine enjoys a career as a chamber musician and orchestral leader specializing in performances on both modern and baroque violin. On baroque violin, Marc performs with his chamber ensemble, Flying Forms, that, in addition to performing standard and contemporary repertoire, also presents larger scale programs including oratorios and operas. In Saint Paul, Minnesota, where he is based, Marc regularly appears as leader or section member with the Bach Society of Minnesota, Oratory | Sacred Bach, Consortium Carissimi, and the Lyra Baroque Orchestra. On modern violin, Marc performs chamber music from all eras on various series and with groups including the Lowertown Piano Trio (founding member), Minnesota Bach Ensemble, Minneapolis Music Company, and the MacPhail Spotlight Series. With many of these groups, both recorded and live, Marc has been featured many times as a soloist and ensemble player on Minnesota Public Radio. A noted entrepreneur, Marc co-founded The Baroque Room, a performance space in downtown Saint Paul that hosts over 50 events each year including the Saint Paul Classical Music Crawl, an event featuring the entire city's classical music scene and named one of the top ten classical music events of 2015 by the Saint Paul Pioneer Press.

Marc has recorded for Early Music New York on the Ex Cathedra label and with Flying Forms on a disc of new music written for the group by composer Nissim Schaul. A prizewinner in the 2008 American Bach Soloists International Competition for Baroque Violin, Marc has played with many noted early music ensembles around the United States and, on both baroque and modern violin, has performed at venues including Carnegie Hall, The Metropolitan Museum of Art, The Kennedy Center, Symphony Space, Merkin Hall, (le) Poisson Rouge, Yale University, and Orchestra Hall (Minneapolis). In addition to work with Flying Forms as a performer of contemporary music, Marc has been a member of the Pittsburgh New Music Ensemble, performed and recorded with the Center for Contemporary Opera (New York), Etc. Gallery (Chicago), and regularly collaborates with Saint Paul's own Zeitgeist.

As an educator, Marc speaks, coaches, and presents lecture recitals at universities on baroque performance practice and entrepreneurship. He has also appeared as a pre-concert lecturer for the Saint Paul Chamber Orchestra's Fanfare program. With Flying Forms, Marc has worked with students at Lawrence University, the University of Wisconsin (Eau Claire), Dickinson College, Concordia University, and the University of Minnesota, among others. Also with the group, Marc has held residencies with Minnesota Youth Symphonies and Minnesota Public Radio where he has coached, performed for and with pre-college students. Along with private individual instruction, Marc is on the faculties of the Saint Paul Conservatory of Music and MacPhail Center for the Arts.

Marc received Bachelor and Master of Music degrees from Indiana University and a Doctor of Musical Arts degree from Stony Brook University. He has studied with Franco Gulli, Pamela Frank, Ani Kavafian, the Emerson String Quartet, Sigiswald Kuijken, and Marc Destrubé, among others. Marc plays on a Giovanni Pistucci violin and a Douglas Cox baroque violin.
Press
Modern Violin

"Mr. Levine and Mr. Mizrahi both are eloquent as well as techincally superb performers. They did full justice to the fire and complexity of this work - and they went on to give equally fine readings to all the compositions that followed. Once of the great pleasures of the evening was to watch how well they seemed to enter the mind of each composer, understanding and expression each individual mood and style in the widely different pieces." - Southampton Press

"In this concert, Mr. Levine proved himself equally expert in new music, combining technical mastery with emotional perceptiveness and beautiful sound." - Southampton Press

"Violinist Marc Levine drew upon a broad tonal palate, including both edgy and smooth sounds, with excellent intonation as well." - Pittsburgh Tribune-Review

"PNME's new musicians this season were all superb, from the incisive playing of Marc Levine . . ." - Pittsburgh Tribune-Review

Baroque Violin

"...vividly rendered instrumental interludes..." - The New York Times

"Levine's playing was superb - crisp and energetic in fast passages, lovely and singing in adagios, a pleasure to hear in ensemble as well as in solos." - Southampton Press

"The rhythmically on-point playing of first violinist Marc Levine kept the ensemble honest . . ." - Minneapolis StarTribune
Pictures
Contact Marc for high resolution versions
Links
Colonial Capers, a recording Marc made with Early Music New York is available for purchase. Click the picture to hear sound clips and buy the CD.
The debut CD of Flying Forms, New Music for Old Instruments, featuring the music of composer Nissim Schaul is available on CD Baby. Click the picture to hear sound clips and to buy the CD or a digital version.
Marc is a founding member of Flying Forms - click the logo to visit the group's website for information about booking concerts, lectures or workshops.
Marc is co-founder and Executive Director of The Baroque Room, a chamber music performance space in Lowertown, Saint Paul, Minnesota. Click the logo to visit the venue website and learn more about concerts happening in the space.
Concerts
Baroque Violin

Flying Forms
Saturday, November 12 at 7:30 P.M. | Splendor of the Baroque: Concerti and Orchestral Works

Saturday November 26 at 7:30 P.M., Saturday, December 3 at 7:30 P.M., and Sunday, December 4 at 3:00 P.M. | A Baroque Christmas

Friday, February 24 at 12:00 P.M. and 7:30 P.M., Saturday, February 25 at 7:30 P.M., Sunday, February 26 at 3:00 P.M., and Wednesday, March 1 at 12:00 P.M. | The Complete Sonatas of J. S. Bach for Strings and Harpsichord

Friday, April 21 at 12:00 P.M. and Saturday, April 22 at 7:30 P.M. | Tutti Celli! Music for the Cello

Lyra Baroque Orchestra
September 30-October 1 | A Musical Banquet

November 18-19 | The Real Bach

Bach Society of Minnesota
September 22-25 | Allelujah! Cantatas and Motets by the Thomaskanter

April 21-23 | Easter Oratorio BWV 249

Consortium Carissimi
May 12-14 | Monteverdi Vespers


Modern Violin

Lowertown Piano Trio
Friday, December 9 at 12:00 P.M. and Saturday, December 10 at 7:30 P.M. | Piano Trios by Beethoven and Dvorák

Recital with Gloria Shih, piano
Friday, May 26 at 12:00 P.M. and Saturday, May 27 at 7:30 P.M. | Together, Apart: Music for Piano and Violin

MacPhail Spotlight Series
Saturday, November 5 at 8:00 P.M. | Jefferson: An American in Paris

Saturday, February 11 at 8:00 P.M. | Schubert: A Love Letter to Music

Saturday, April 8 at 8:00 P.M. | From the Balkans to the Holy Land

Saint Paul Chamber Orchestra Fanfare presentations
Friday, October 7 at 10:00 A.M. and 7:00 P.M. and Saturday, October 8 at 7:00 P.M.

Friday, March 24 at 10:00 A.M. and 7:00 P.M. and Saturday, March 25 at 7:00 P.M.