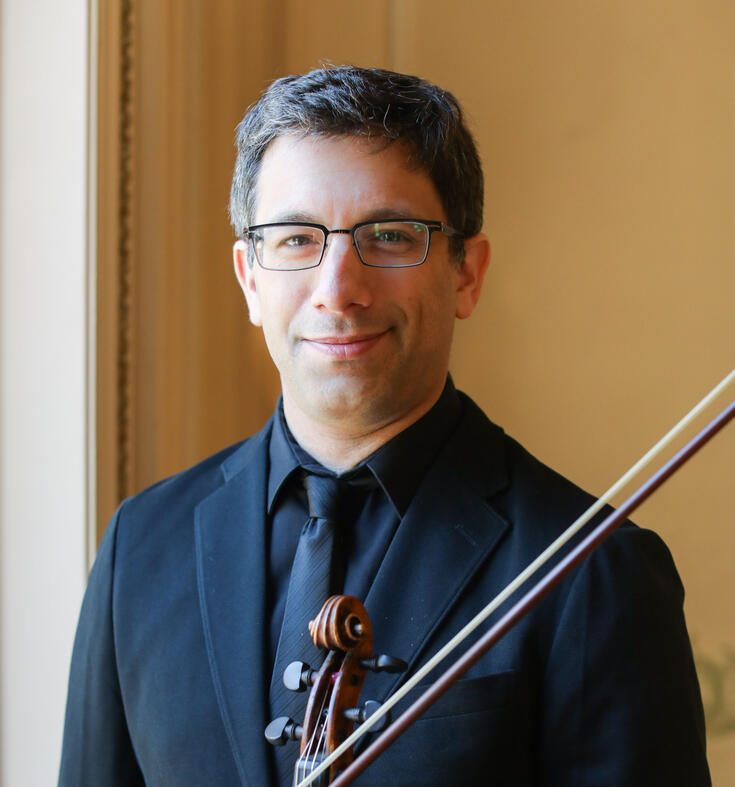 Marc Levine
---
Violin
Biography
Marc Levine enjoys a career as a chamber musician and orchestral leader specializing in performances on both modern and baroque violin. On baroque violin, Marc performs with his chamber ensemble, Flying Forms, that, in addition to performing standard and contemporary repertoire, also presents larger scale programs including oratorios and operas. In Saint Paul, Minnesota, where he is based, Marc regularly appears as leader or section member with the Bach Society of Minnesota, Bach Roots Festival, and the Lyra Baroque Orchestra. On modern violin, Marc performs chamber music from all eras on various series, most recently with the Lux String Quartet and on the MacPhail Spotlight Series. With these groups and others, both recorded and live, Marc has been featured many times as a soloist and ensemble player on Minnesota Public Radio. A noted entrepreneur, Marc co-founded The Baroque Room, a performance space in downtown Saint Paul that hosts nearly 50 events each year, and the Saint Paul Classical Music Crawl, an event held four times between 2015-19 featuring the entire city's classical music scene and named one of the top ten classical music events of 2015 by the Saint Paul Pioneer Press.

Marc has recorded for Early Music New York on the Ex Cathedra label, with the Lyra Baroque Orchestra on the Violetear label, and with Flying Forms on a disc of new music written for the group by composer Nissim Schaul. Upcoming recordings with Flying Forms of Platti trios and violin sonatas by Handel, Corelli, Veracini, and Eccles will be released in 2020 and 2021, respectively, also on Violetear. A prizewinner in the 2008 American Bach Soloists International Competition for Baroque Violin, Marc has played with many noted early music ensembles around the United States and, on both baroque and modern violin, has performed at venues including Carnegie Hall, The Metropolitan Museum of Art, The Kennedy Center, Symphony Space, Merkin Hall, (le) Poisson Rouge, Yale University, and Orchestra Hall (Minneapolis). In addition to work with Flying Forms as a performer of contemporary music, Marc has been a member of the Pittsburgh New Music Ensemble, performed and recorded with the Center for Contemporary Opera (New York), Etc. Gallery (Chicago), and has collaborated with Saint Paul's own Zeitgeist.

As an educator, Marc has spoken, coached, and presented lecture recitals at universities and in various series on baroque performance practice and entrepreneurship. He also appeared as a pre-concert lecturer for the Saint Paul Chamber Orchestra from 2017-19. With Flying Forms, Marc has worked with students at Lawrence University, the University of Wisconsin (Eau Claire), Dickinson College, Concordia University, and the University of Minnesota, among others. Also with the group, Marc has held residencies with Minnesota Youth Symphonies and Minnesota Public Radio where he has coached and performed for and with pre-college students. Along with private individual instruction, Marc has served on the faculties of the Saint Paul Conservatory of Music and MacPhail Center for the Arts.

Marc received Bachelor and Master of Music degrees from Indiana University and a Doctor of Musical Arts degree from Stony Brook University. He has studied with Franco Gulli, Pamela Frank, Ani Kavafian, the Emerson String Quartet, Sigiswald Kuijken, and Marc Destrubé, among others. Marc plays on a Giovanni Pistucci violin and a Marcelo Vianna Cruz baroque violin.
Press
"Mr. Levine and Mr. Mizrahi both are eloquent as well as techincally superb performers. They did full justice to the fire and complexity of this work - and they went on to give equally fine readings to all the compositions that followed. Once of the great pleasures of the evening was to watch how well they seemed to enter the mind of each composer, understanding and expression each individual mood and style in the widely different pieces." - Southampton Press

"In this concert, Mr. Levine proved himself equally expert in new music, combining technical mastery with emotional perceptiveness and beautiful sound." - Southampton Press

"Violinist Marc Levine drew upon a broad tonal palate, including both edgy and smooth sounds, with excellent intonation as well." - Pittsburgh Tribune-Review

"PNME's new musicians this season were all superb, from the incisive playing of Marc Levine . . ." - Pittsburgh Tribune-Review

"...vividly rendered instrumental interludes..." - The New York Times

"Levine's playing was superb - crisp and energetic in fast passages, lovely and singing in adagios, a pleasure to hear in ensemble as well as in solos." - Southampton Press

"The rhythmically on-point playing of first violinist Marc Levine kept the ensemble honest . . ." - Minneapolis StarTribune
Pictures
Contact Marc for high resolution versions
Concerts, 2020-21
Flying Forms
Thursday, November 12 at 12:00 P.M. | Courtroom Concert at the Schubert Club
Friday, November 20 at 7:00 P.M. and Saturday, November 21 at 11:00 A.M. | A Grand Tour Zoom Concert for the Lyra Baroque Orchestra


Lyra Baroque Orchestra
Saturday, December 5 at 11:00 A.M. | French Dreams & Games
Friday, February 12 at 7:00 P.M. and Saturday, February 13 at 11:00 A.M. | Lyra Solo Works Zoom Concert
Saturday, March 6 at 11:00 A.M. | German Music, Italian Echoes: Music by Platti & J. S. Bach
Saturday, April 17 at 11:00 A.M. | Joseph Bologne, Chevalier de Saint-Georges

Lux String Quartet
Expected performances in December, 2020 and Spring, 2021
The Lux String Quartet is a Minnesota Public Radio Class Notes Artist Ensemble. Learn more by clicking this link.